Slammers FC started in 1994 to give players quality training and competition. Since then, Slammers FC has helped thousands of players achieve their dreams to become impactful college student athletes, professional players, and leaders.
Personal growth, respect, hard work, character, and integrity are the foundations Slammers FC instills in its players to succeed.  Slammers FC is committed to its players as they play, grow, cry, laugh and dream together.
Slammers FC is ONE FAMILY COMMITTED TO EXCELLENCE
We are proud to list here the Slammers FC alumni who graduated from our program and went on to play in college or university.
Thank you for your dedication and hard work.
We congratulate you and wish you well.
Do you see someone we're missing? Drop us a line!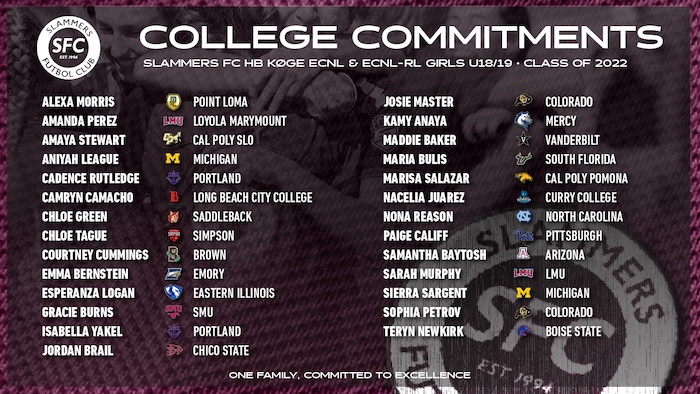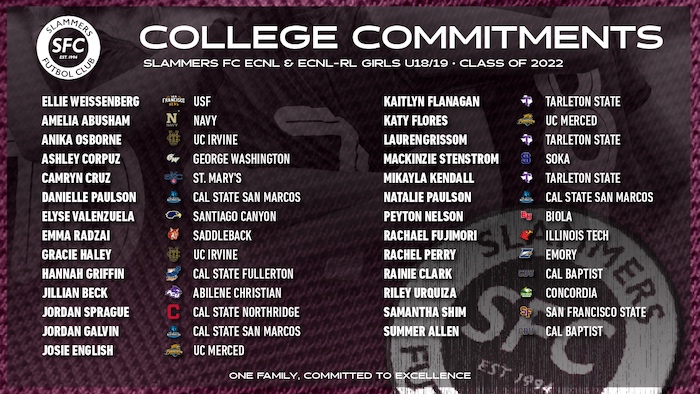 | LAST NAME | FIRST NAME | SCHOOL | CONFERENCE | HS Grad |
| --- | --- | --- | --- | --- |
| Miner | Emily | Utah Valley | WAC | 2023 |
| Moschetti | Angelina | Colorado | Pac 12 | 2023 |
| Ramirez | Jessica | Arizona | Pac 12 | 2023 |
| Verplancke | Ava | Pepperdine | WCC | 2023 |
| Dimry | Soleil | Cal | Pac 12 | 2023 |
| McMahon | Malia | Cal | Pac 12 | 2023 |
| Flores | Maribel | USC | Pac 12 | 2023 |
| Anderson | Nicole | New Mexico | Mountain West | 2023 |
| Herrera | Olivia | Arizona State | Pac 12 | 2023 |
| Conner | Cindy | Boise State | Mountain West | 2023 |
| Doherty | Reese | Cal | Pac 12 | 2023 |
| DeStefani | Lindsey | UC San Diego | Big West | 2023 |
| James | Emma | Idaho | Big Sky | 2023 |
| Whelchel | Alysa | New Mexico | Mountain West | 2023 |
| Woodards | Ryan | UNLV | Mountain West | 2023 |
| Leonard | Peyton | Pepperdine | WCC | 2023 |
| King | Savannah | North Carolina | ACC | 2023 |
| Hayden | Christa | Michigan | Big 10 | 2023 |
| Harvey | Shae | Stanford | Pac 12 | 2023 |
| Anderson | Allie | New Mexico | Mountain West | 2023 |
| Cook | Abbey | UPenn | Ivy | 2023 |
| Webb | Sage | Cal State Fullerton | Big West | 2023 |
| Conover | Brooke | TCU | Big 12 | 2023 |
| Marshall | Hannah | Long Beach CC | CCCAA | 2023 |
| Tagge | Sophia | Northern Arizona | Big Sky | 2023 |
| Picon | Yammile | Portland State | Big Sky | 2023 |
| Goehring | Morgan | Montevallo | Gulf South | 2023 |
| Grubert | Ashley | Concordia University, Irvine | Pac West | 2023 |
| Russo | Antonella | Concordia University, Irvine | Pac West | 2023 |
| McGuire | Francesca | Boise St. | Mountain West | 2023 |
| Graham | Grace | LMU | WCC | 2023 |
| Gonzalez | Mikayla | North Dakota | Summit League | 2023 |
| Johsnon | Skye | Cal State Fullerton | Big West | 2023 |
| Gomez | Kaitlyn | Chicago | University Athletic | 2023 |
| Van Deusen | Kiara | Portland State | Big Sky | 2023 |
| DeGidio | Jaclyn | UC Santa Barbara | Big West | 2023 |
| Go | Sabrina | Cal Poly Pomona | CCAA | 2023 |
| Kanaly | Kayla | UC Riverside | Big West | 2023 |
| Jankans | Kaylen | Grambling St | SWAC | 2023 |
| Villanueva | Cassandra | UNLV | Mountain West | 2023 |
| Nepomuceno | Allison | Converse University | Conference of the Carolinas | 2023 |
| Lannon | Katie | Westmont College | GSAC | 2023 |
| Roman | Reyna | Cal State LA | CCAA | 2023 |
| Noble | Kaylee | Cal State Fullerton | Big West | 2023 |
| Walsh | Isabelle | Cal State San Marcos | CCAA | 2023 |
| Nadell | Bailey | Sonoma State | CCAA | 2023 |
| Hallock | Cecilia | San Francisco State | CCAA | 2023 |
| Petteys | Hannah | Utah Tech | WAC | 2023 |
| Hernandez | Nina | La Verne | SCIAC | 2023 |
| Barrett | Isabella | Concordia University, Irvine | Pac West | 2023 |
| Setum | Hannah | Long Beach CC | CCCAA | 2023 |
| Solis | Valerie | Long Beach CC | CCCAA | 2023 |
| Handel | Maren | La Verne | SCIAC | 2023 |
| Myze | Peyton | Cal State LA | CCAA | 2023 |
| Fujimori | Ashley | Soka | CalPac | 2023 |
| Frerichs | Karissa | Ottawa - AZ | NAIA | 2023 |
| Wall | Mylee | Sonoma State | CCAA | 2023 |
| Randall | Alexa | Newberry | South Atlantic | 2023 |
| Grannis | Ella | BIOLA | Pac West | 2023 |
| Hess | Scott | Westmont | GSAC | 2023 |
| Mitchell | Jaylinn | Southern Methodist | AAC | 2023 |
| Graham | Dylan | Concordia University, Irvine | Pac West | 2023 |
| Abarca | Kevin | San Diego State | Mountain West | 2023 |
| Schalliol | Brandon | Concordia University, Irvine | Pac West | 2022 |
| Fisher | Reid | San Diego State | Mountain West | 2022 |
| Gimenez | Lucas | Sacramento State | Big Sky | 2022 |
| Faison | Justin | Sacramento State | Big Sky | 2022 |
| Weissenberg | Ellie | San Francisco | WCC | 2022 |
| Abusham | Amelia | Navy | Patriot | 2022 |
| Osborne | Anika | UC Irvine | Big West | 2022 |
| Corpuz | Ashley | George Washington | Atlantic 10 | 2022 |
| Cruz | Camryn | St Mary's College | WCC | 2022 |
| Paulson | Danielle | CSU San Marcos | CCAA | 2022 |
| Valenzuela | Elyse | Santiago Canyon | Orange Empire | 2022 |
| Radzai | Emma | Saddleback | Orange Empire | 2022 |
| Haley | Gracie | UC Irvine | Big West | 2022 |
| Griffin | Hannah | Cal State Fullerton | Big West | 2022 |
| Beck | Jillian | Abilene Christian | WAC | 2022 |
| Sprague | Jordan | CSU Northridge | Big West | 2022 |
| Galvin | Jordan | CSU San Marcos | CCAA | 2022 |
| Flanagan | Kaitlyn | Tarleton State | WAC | 2022 |
| English | Josie | Long Beach CC | CCCAA | 2022 |
| Flores | Katie | UC Merced | CalPac | 2022 |
| Grissom | Lauren | Tarleton State | WAC | 2022 |
| Stenstrom | Mackinzie | Soka University | CalPac | 2022 |
| Kendall | Mikayla | Tarleton State | WAC | 2022 |
| Paulson | Natalie | CSU San Marcos | CCAA | 2022 |
| Nelson | Peyton | BIOLA | Pac West | 2022 |
| Fujimori | Rachel | Illinois Tech | NACC | 2022 |
| Perry | Rachel | Emory | University Athletic | 2022 |
| Clark | Rainie | Cal Baptist | WAC | 2022 |
| Urquiza | Riley | Concordia University, Irvine | Pac West | 2022 |
| Shim | Samantha | San Francisco State | CCAA | 2022 |
| Allen | Summer | Cal Baptist | WAC | 2022 |
| Morris | Alexa | Point Loma | Pac West | 2022 |
| Perez | Amanda | Loyola Marymount | WCC | 2022 |
| Stewart | Amaya | Cal Poly SLO | Big West | 2022 |
| League | Aniyah | Michigan | Big 10 | 2022 |
| Rutledge | Cadence | Portland | WCC | 2022 |
| Camacho | Camryn | Long Beach CC | CCCAA | 2022 |
| Green | Chloe | Saddleback | Orange Empire | 2022 |
| Tague | Chloe | Simpson | CalPac | 2022 |
| Cummings | Courtney | Brown | Ivy | 2022 |
| Bernstein | Emma | Emory | University Athletic | 2022 |
| Logan | Esperanza | Eastern Illinois | Ohio Valley | 2022 |
| Burns | Gracie | Southern Methodist | AAC | 2022 |
| Yakel | Bella | Portland | WCC | 2022 |
| Brail | Jordan | Chico State | CCAA | 2022 |
| Master | Josie | Colorado | Pac 12 | 2022 |
| Anaya | Kamy | Mercy | East Coast Conference | 2022 |
| Baker | Maddie | Vanderbilt | SEC | 2022 |
| Bulis | Maria | South Florida | AAC | 2022 |
| Salazar | Marisa | Cal Poly Pomona | CCAA | 2022 |
| Juarez | Nacelia | Curry College | Commonwealth Coast | 2022 |
| Reason | Nona | North Carolina | ACC | 2022 |
| Califf | Paige | Pittsburgh | ACC | 2022 |
| Baytosh | Samantha | Arizona | Pac 12 | 2022 |
| Murphy | Sarah | Loyola Marymount | WCC | 2022 |
| Sargent | Sierra | Michigan | Big 10 | 2022 |
| Petrov | Sophia | Colorado | Pac 12 | 2022 |
| Newkirk | Taryn | Boise State | Mountain West | 2022 |
| Rodriguez | Paige | Long Beach CC | CCCAA | 2022 |
| Cabral | Rya | Long Beach CC | CCCAA | 2022 |
| Preza | Mariah | Long Beach CC | CCCAA | 2022 |
| Cuellar | Valerie | Long Beach CC | CCCAA | 2022 |
| Klosinski | Grace | Arizona | Pac 12 | 2021 |
| MacMillan | Mackenzie | Boise State | Mountain West | 2021 |
| Pua | McKenna | Washington State | Pac 12 | 2021 |
| Goggins | Kate | Boston College | ACC | 2021 |
| Perry | Jayden | UCLA | Pac 12 | 2021 |
| Bodas | Reese | Boise State | Mountain West | 2021 |
| Farmer | Aaliyah | USC | Pac 12 | 2021 |
| Jackson | Simone | USC | Pac 12 | 2021 |
| Adams | Kelsey | Pepperdine | WCC | 2021 |
| Gomez | Julia | USC | Pac 12 | 2021 |
| Brown | Ryan | Princeton | Ivy | 2021 |
| Herrera | Connie | Sacred Heart | NEC | 2021 |
| Ocampo | Olivia | Concordia University, Irvine | PAC West | 2021 |
| Pearlman | Sophia | Colorado State | Mountain West | 2021 |
| Nobles | Alexis | San Diego | WCC | 2021 |
| Dunbar | Abigail | Notre Dame | ACC | 2021 |
| Paculba | Kaitlyn | Oregon | Pac 12 | 2021 |
| DePriest | Gianna | Brown | Ivy | 2021 |
| Alba | Savanna | Abilene College | WAC | 2021 |
| Davey | Maxine | Pomona College | SCIAC | 2021 |
| Siegel | Ande | Westmont | GSAC | 2021 |
| Merritt | Malia | Ottawa - AZ | NAIA | 2021 |
| Reyes | Alyssa | Long Beach State | Big West | 2021 |
| Hogate | Megan | Texas | Big 12 | 2021 |
| Palomo | Nicolette | San Diego State | Mountain West | 2021 |
| Golan | Samara | Cal Poly SLO | Big West | 2021 |
| Valdez | Syra | Cal Baptist | WAC | 2021 |
| Gabriel | Reinna | Cornell | Ivy | 2021 |
| Cross | Carly | Boise State | Mountain West | 2021 |
| Granger | Lucy | UC San Diego | Big West | 2021 |
| Dodson | Maddison | Stony Brook | America East | 2021 |
| Leroy | Madison | Cornell | Ivy | 2021 |
| Diaz | Natalie | Rice | Conference USA | 2021 |
| Cerdon | Malia | Cal Baptist | WAC | 2021 |
| Leonard | Macey | Brown | Ivy | 2021 |
| Justiniani | Michaela | Boise State | Mountain West | 2021 |
| Potter | Makenna | Boise State | Mountain West | 2021 |
| Ogden | Kara | Penn State | Big 10 | 2021 |
| Strohman | Sage | West Point | Patriot | 2021 |
| Montalvo | Jazmin | Bolia | Pac West | 2021 |
| Hood | Xochitl | UC Santa Cruz | CCA | 2021 |
| Tubbs | Jillian | Point Loma | PAC West | 2021 |
| O'Brien | Riley | Montana | Big Sky | 2021 |
| Guzman | Gabbie | Long Beach State | Big West | 2021 |
| Drake | Sophia | St. Mary's | WCC | 2021 |
| Peterson | Jackie | Embry Riddle | CalPac | 2021 |
| Kamassah | Nadia | Houston | AAC | 2020 |
| Laz | Nicole | Houston | AAC | 2020 |
| Long | Genesis | UC Santa Cruz | ACAA | 2020 |
| Goggins | Emma | Boston College | ACC | 2020 |
| Watkins | Grace | Duke | ACC | 2020 |
| Ray | Emilee | Michigan | Big 10 | 2020 |
| Edwards | Olivia | Iowa State | Big 12 | 2020 |
| Cordelia | Cross | Oklahoma | Big 12 | 2020 |
| Sharts | Sydney | Oklahoma | Big 12 | 2020 |
| Vladic | Jaycee | Oklahoma | Big 12 | 2020 |
| Carbon | McKenna | Cal Poly San Luis Obispo | Big West | 2020 |
| Norman | Mary | Cal Poly San Luis Obispo | Big West | 2020 |
| Phantumabamrung | Madeline | Cal State Fullerton | Big West | 2020 |
| Rodriguez | Destiny | Cal State Fullerton | Big West | 2020 |
| Gehrig | Celine | Long Beach State | Big West | 2020 |
| Rodriguez | Skylynn | Long Beach State | Big West | 2020 |
| Tuua | Aaliyah | UC Riverside | Big West | 2020 |
| Guidry | Tariq | Marymount California | CalPac | 2020 |
| Sung | Lindsay | Cal Poly Pomona | CCAA | 2020 |
| Malachi | Katelyn | Hope International | GSAC | 2020 |
| Swain | Lanell | Life Pacific | GSAC | 2020 |
| Castelan | Cameron | Wisconsin, Green Bay | Horizon | 2020 |
| Leo | Sophia | Wisconsin, Green Bay | Horizon | 2020 |
| Ferrentino | Mia | Columbia | Ivy | 2020 |
| Hoffer | Cori | Dartmouth | Ivy | 2020 |
| Godwin-Piliavin | Didi | Princeton | Ivy | 2020 |
| Burns | Mia | Boise State | Mountain West | 2020 |
| Santos | Sarah | San Jose State | Mountain West | 2020 |
| Levine | Marissa | UC Irvine | Mountain West | 2020 |
| Rosen | Rachel | Colorado | Pac 12 | 2020 |
| Rasheed | Aubree | Oregon State | Pac 12 | 2020 |
| Briggs | Skylar | UC Berkeley | Pac 12 | 2020 |
| Loza | Isabel | UCLA / West Virginia | Pac 12 | 2020 |
| Quiggle | Megan | Utah | Pac 12 | 2020 |
| Land | Jayla | Washington State / Boise State | Pac 12 | 2020 |
| Ianni | Alex | Point Loma | Pac West | 2020 |
| Bender | Sydney | West Point | Patriot | 2020 |
| Leist | Angela | Metro State | RMAC | 2020 |
| Miller | Kyle | Whittier | SCIAC | 2020 |
| Henderson | Kate | Alabama | SEC | 2020 |
| Buck | Walter | Virginia Military Institute | Southern | 2020 |
| Ferguson | Caitlyn | Louisiana, Lafayette | Sun Belt | 2020 |
| Dunlap | Neleah | Cal Baptist | WAC | 2020 |
| Ramirez | Jayden | Cal Baptist | WAC | 2020 |
| Duckett | Julianna | Pepperdine | WCC | 2020 |
| Poland | Taylor | Saint Marys College (CA) | WCC | 2020 |
| Blaser | Mackenzee | East Carolina | AAC | 2019 |
| Nighswonger | Jenna | Florida State | ACC | 2019 |
| Wiesner | Kate | Penn State | Big 10 | 2019 |
| Stenslie | Madison | Oklahoma | Big 12 | 2019 |
| Cascapera | Giulia | West Virginia / ASU | Big 12 | 2019 |
| Komisza | Alexis | Long Beach State | Big West | 2019 |
| Alarcon | Samantha | CSU Northridge | Big West | 2019 |
| Guerra | Brianna | UC Davis / Concordia Irvine | Big West | 2019 |
| Hayakawa | Mirai | UC Davis | Big West | 2019 |
| Johnson | Emily | UC Santa Barbara | Big West | 2019 |
| Ortin | Gillian | Cal Poly Pomona | CCAA | 2019 |
| Alfaro | Hannah | UTSA / Idaho | Conference USA | 2019 |
| Alday | Savannah | Jamestown | GPAC | 2019 |
| Savannah | Alday | Jamestown | GPAC | 2019 |
| Hill | Sadie | Westmont College | GSAC | 2019 |
| Curry | Madison | Princeton | Ivy | 2019 |
| Robinson | Paige | Kansas Wesleyan | KCAC | 2019 |
| Barham | Nicole | Northern Illinois | MAC | 2019 |
| Dimel | Alex | Missouri Southern | Mid-America | 2019 |
| Denning | Annamarie | Air Force | Mountain West | 2019 |
| Elve | Rachelle | San Diego State | Mountain West | 2019 |
| Zachary | Alex | Saddleback | Orange Empire | 2019 |
| Diaz-Casarrubias | Miranda | Santiago Canyon College | Orange Empire | 2019 |
| Goerlinger | Madison | Arizona | Pac 12 | 2019 |
| Jones | Sophie | Arizona / Long Beach State | Pac 12 | 2019 |
| Anderson | Erin | Arizona State | Pac 12 | 2019 |
| Gonzalez | Amaya | Colorado | Pac 12 | 2019 |
| Herrera | Skylar | Oregon State | Pac 12 | 2019 |
| Wesley | Kennedy | Stanford | Pac 12 | 2019 |
| Hueston | Natalie | UC Berkeley | Pac 12 | 2019 |
| Nguyen | Kaylee | UC Berkeley | Pac 12 | 2019 |
| Eisenhart | Jalen | USC | Pac 12 | 2019 |
| French | Katherine | Concordia University, Irvine | Pac West | 2019 |
| Gjonovich | Analisa | Concordia University, Irvine | Pac West | 2019 |
| Kim | Hannah | Pomona Pitzer | SCIAC | 2019 |
| Marchal | Gabriella | Loyola Marymount | WCC | 2019 |
| Smith | Jaida | Pepperdine | WCC | 2019 |
| Casto | Ellyn | San Diego | WCC | 2019 |
| Walencewicz | Malia | San Diego | WCC | 2019 |
| Darden | Mia | Tulsa | AAC | 2018 |
| Oliver | Alijah | Tulsa | AAC | 2018 |
| Interian* | Mattison | Notre Dame | ACC | 2018 |
| Watkins* | Genevieve | Notre Dame | ACC | 2018 |
| McCaffrey | Lauren | Northwestern | Big 10 | 2018 |
| Warren | Madison | TCU | Big 12 | 2018 |
| Hogue | Madison | Texas | Big 12 | 2018 |
| Rose | Jen | Texas Tech | Big 12 | 2018 |
| Lee | Janae | Eastern Washington | Big Sky | 2018 |
| Carpentier | Marie-Josee | Cal Poly San Luis Obispo | Big West | 2018 |
| Viera | Chelsea | Cal State Fullerton | Big West | 2018 |
| Waters | Shae | College of Idaho | Cascade Collegiate | 2018 |
| Duran | Jazmin | Cal Poly Pomona | CCAA | 2018 |
| Farley | Kate | CSU Monterey Bay | CCAA | 2018 |
| Wilson | Casey | CSU Monterey Bay | CCAA | 2018 |
| Burt | Peyton | CSU San Marcos | CCAA | 2018 |
| Bradford | Emy | UC San Diego | CCAA | 2018 |
| Garrido | Sophia | UC San Diego | CCAA | 2018 |
| Gollis | Daisy | Carnegie Mellon | Eastern College Athletic | 2018 |
| Guptill | Michael | Dartmouth | Ivy | 2018 |
| Juarez* | Venicia | Princeton | Ivy | 2018 |
| Rubinelli | Sara | Vassar College | Liberty League | 2018 |
| Tulk | Gabriella | Vassar College | Liberty League | 2018 |
| Potts | Karli | Fort Hays State | Mid-America | 2018 |
| Mwendapole | Kyle | Southern Illinois | Missouri Valley | 2018 |
| Payne | Sophia | Oberlin College | North Coast Athletic | 2018 |
| Ferreira | Nina | Saddleback | Orange Empire | 2018 |
| Garces* | Sydney | Arizona State | Pac 12 | 2018 |
| Loren* | Jesse | Colorado | Pac 12 | 2018 |
| Greubel* | Abby | Stanford | Pac 12 | 2018 |
| Thomas | Renee | UC Berkeley | Pac 12 | 2018 |
| Magliarditi | Taylor | UCLA | Pac 12 | 2018 |
| Fergeson | Aubrey | Biola | Pac West | 2018 |
| Farmer | Scout | Concordia University, Irvine | Pac West | 2018 |
| Wikoff | Sheridan | Point Loma | Pac West | 2018 |
| McDonald | Blair | Vanderbilt | SEC | 2018 |
| Banda | Kevyn | The Citadel | Southern | 2018 |
| Kirk | Amy | Cal Baptist | WAC | 2018 |
| Manzo* | Destinee | Portland | WCC | 2018 |
| Louderback* | Madison | San Diego | WCC | 2018 |
| Dubach | Averee | Tulsa | AAC | 2017 |
| Hart | Kendall | Kennesaw State | Atlantic Sun | 2017 |
| Harper | Faith | Michigan | Big 10 | 2017 |
| Neumann | Hailey | Michigan | Big 10 | 2017 |
| Edwards | Mikayla | Kansas State | Big 12 | 2017 |
| Ramos | Brooke | Kansas State | Big 12 | 2017 |
| Wiehe | Brittany | Eastern Washington | Big Sky | 2017 |
| Oates | Alexis | Northern Colorado | Big Sky | 2017 |
| Covarrubias | Cynthia | UC Merced | CalPac | 2017 |
| Hung | Allison | Cal Poly Pomona | CCAA | 2017 |
| Farr | Allison | UC Santa Cruz | Coast to Coast | 2017 |
| Chong | Kristen | Carnegie Mellon | Eastern College Athletic | 2017 |
| Balthazar Chang | Kailee | Westminster College (UT) | Frontier | 2017 |
| Kealoha Kauanui | Shay | Westminster College (UT) | Frontier | 2017 |
| Haw | Gabriella | Westmont College | GSAC | 2017 |
| Tachick | Halle | Valdosta State | Gulf South | 2017 |
| Hayes | Savanna | Wisconsin, Green Bay | Horizon | 2017 |
| Chargualaf | Jaelyn | Ottawa | KCAC | 2017 |
| Magallanes | Gabriella | Bowling Green State | MAC | 2017 |
| Crawley | Blake | Trinity College | NESCAC | 2017 |
| Sanchez | Modesty | Emerson | NEWMAC | 2017 |
| Weiser | Alexsis | Adelphi University | Northeast Ten | 2017 |
| York | Mia | Adelphi University | Northeast Ten | 2017 |
| Gelfand | Samantha | Aurora | Northern Athletics Collegiate | 2017 |
| Kauanui | Leiolani | Columbia Basin College | Northwest Athletic | 2017 |
| Ward | Siena | Ohio Northern | Ohio Athletic | 2017 |
| Jones | Amanda | Arizona State | Pac 12 | 2017 |
| Cardenas | Hannah | Colorado | Pac 12 | 2017 |
| Sharts | Hannah | UCLA | Pac 12 | 2017 |
| Siemonsma | Sianna | Washington | Pac 12 | 2017 |
| Barton | Danni | Concordia University, Irvine | Pac West | 2017 |
| Jones | Carmany | Concordia University, Irvine | Pac West | 2017 |
| Brown | Krystin | Cal Tech | SCIAC | 2017 |
| Lynch | Morgan | Chapman | SCIAC | 2017 |
| Harris | Rachel | Arkansas | SEC | 2017 |
| Hopkins | Haley | Vanderbilt | SEC | 2017 |
| Roston | Maya | Denver | Summit | 2017 |
| Otterbein | Annie | Emory | University Athletic | 2017 |
| Brown | Taylor | Cal Baptist | WAC | 2017 |
| Winkelmann | Elliott | Portland | WCC | 2017 |
| Copenhaven | Natalie | San Diego | WCC | 2017 |
| Ghazizadeh | Mina | San Diego | WCC | 2017 |
| Melanson | Molly | San Diego | WCC | 2017 |
| Erlbeck | Olivia | Duke | ACC | 2016 |
| Magliarditi | Lexington | Duke | ACC | 2016 |
| Weck | Melissa | Florida Gulf Coast | Atlantic Sun | 2016 |
| Geffrey | Randi | Davidson | Atlantic Ten | 2016 |
| Dennis | Amanda | Penn State | Big 10 | 2016 |
| Hendley | Carina | Rutgers | Big 10 | 2016 |
| Covert | Olivia | Kansas State | Big 12 | 2016 |
| Rocha | Aly | Kansas State | Big 12 | 2016 |
| Bethencourt | Lauren | Cal State Fullerton | Big West | 2016 |
| Wolfe | Kylie | Hawaii | Big West | 2016 |
| Alladdini | Roisin | UC Davis | Big West | 2016 |
| Dunlap | Jacquelyn | UC Davis | Big West | 2016 |
| Sanchez | Estella | UC Santa Barbara | Big West | 2016 |
| Anguiano | Angelique | UC Merced | CalPac | 2016 |
| Gess | Emily | Carroll College | Cascade Collegiate | 2016 |
| Larson | Shayna | Cal Poly Pomona | CCAA | 2016 |
| Erickson | Amanda | UC San Diego | CCAA | 2016 |
| Lodge | Georgia | UC San Diego | CCAA | 2016 |
| Miller | Alexa | Trinity Christian, Chicago (IL) | Chicagoland Collegiate Athletic | 2016 |
| Miller | Taylor | Trinity Christian, Chicago (IL) | Chicagoland Collegiate Athletic | 2016 |
| Trujillo | Alexis | Trinity Christian, Chicago (IL) | Chicagoland Collegiate Athletic | 2016 |
| Walker | Makena | Trinity Christian, Chicago (IL) | Chicagoland Collegiate Athletic | 2016 |
| Dages | Jenna | Louisiana Tech | Conference USA | 2016 |
| Cruz | McKenna | Grace College | Crossroads | 2016 |
| Toohey | Emma | Hastings College | Great Plains Athletic | 2016 |
| Slade | Madison | Vanguard | GSAC | 2016 |
| Flores | Kimberly | IUPUI | Horizon | 2016 |
| Chargualauf | Ashlynn | Ottawa | KCAC | 2016 |
| Lucas | Taira | Ottawa | KCAC | 2016 |
| Miller | Olivia | Middlebury College | NESCAC | 2016 |
| Abelove | Alexis | Aurora | Northern Athletics Collegiate | 2016 |
| Falasco | Samantha | Arizona | Pac 12 | 2016 |
| Kelsey | Devyn | Arizona State | Pac 12 | 2016 |
| Zerbel | Hailey | Arizona State | Pac 12 | 2016 |
| Malatskey | Carly | Stanford | Pac 12 | 2016 |
| Bingham | Julia | USC | Pac 12 | 2016 |
| Wong | Kirstin | Chaminade | Pac West | 2016 |
| Khoury | Olivia | Concordia University, Irvine | Pac West | 2016 |
| O'Connor | Samantha | Concordia University, Irvine | Pac West | 2016 |
| Whitcomb | Kaelyn | Concordia University, Irvine | Pac West | 2016 |
| Valente | Jazmin | Notre Dame de Namur | Pac West | 2016 |
| Sachs | Kaitlyn | Adams State | RMAC | 2016 |
| Grimaldi | Emily | Occidental College | SCIAC | 2016 |
| Mansour | Bridget | Central Arkansas | Southland | 2016 |
| LaMarche | Caitlin | Southeastern Louisiana | Southland | 2016 |
| Padilla | Mercedes | Alabama State | Southwestern Athletic | 2016 |
| Novotny | Claire | Grand Canyon | WAC | 2016 |
| Robles | Ayana | Seattle | WAC | 2016 |
| Leggio | Nicole | Pepperdine | WCC | 2016 |
| Morris | Tara | Pepperdine | WCC | 2016 |
| Stenberg | Hailey | Pepperdine | WCC | 2016 |
| Buckner | Madison | San Diego | WCC | 2016 |
| Doe | McKenna | San Diego | WCC | 2016 |
| Doe | Mikaela | San Diego | WCC | 2016 |
| Hansen | Mackenzie | San Diego | WCC | 2016 |
| Walls | Halle | San Diego | WCC | 2016 |
| Hegardt | Audrey | Santa Clara | WCC | 2016 |
| Brown | Shelby | Southern Methodist | AAC | 2015 |
| Jacobs | Natalie | Notre Dame | ACC | 2015 |
| Ward | Natalie | Notre Dame | ACC | 2015 |
| Westrup | Brianna | Virginia | ACC | 2015 |
| Gazmarian | Brianna | Ohio State | Big 10 | 2015 |
| Simonian | Boo | Cal State Fullerton | Big West | 2015 |
| Reyes | Brittany | CSU Northridge | Big West | 2015 |
| Buda | Victoria | UC Irvine | Big West | 2015 |
| Vogel | J.J. | UC Irvine | Big West | 2015 |
| Morones | Devon | Chico State | CCAA | 2015 |
| Nunez | Liz | CSU Dominguez Hills | CCAA | 2015 |
| Chavarria | Charlotte | CSU San Bernardino | CCAA | 2015 |
| Avonce | Estefany | CSU San Marcos | CCAA | 2015 |
| Jara | Allie | CSU San Marcos | CCAA | 2015 |
| Ramos | Angelica | UC San Diego | CCAA | 2015 |
| Pokipala | Rachel | Westmont College | GSAC | 2015 |
| Mohammadi | Leah | Harvard | Ivy | 2015 |
| Hart | Kate | San Diego State | Mountain West | 2015 |
| Monning | Emille | Utah State | Mountain West | 2015 |
| Spain | Ellie | Texas A&M, Texarkana | NAIA | 2015 |
| Peters | Sydney | College of St. Rose | Northeast Ten | 2015 |
| Franco | Andrea | Minot State | Northern Sun Intercollegiate | 2015 |
| Franco | Ashley | Minot State | Northern Sun Intercollegiate | 2015 |
| Yescas | Leanna | Santa Ana College | Orange Empire | 2015 |
| Mahaney | Brianna | Biola | Pac West | 2015 |
| Gast | Katherine | Concordia University, Irvine | Pac West | 2015 |
| Meyer | Brianna | Concordia University, Irvine | Pac West | 2015 |
| Schmidt | Margaret | Texas A&M | SEC | 2015 |
| Arcebido | Mikayla | Pepperdine | WCC | 2015 |
| Thomas | Danielle | Pepperdine | WCC | 2015 |
| Armendariz | Hanna | Portland | WCC | 2015 |
| Ghobi | Maggie | San Diego | WCC | 2015 |
| Guerra | Lauren | Southern Methodist | AAC | 2014 |
| Oates | Claire | Southern Methodist | AAC | 2014 |
| Hazelriggs | Olivia | Virginia | ACC | 2014 |
| Wilkinson | Nicole | Michigan | Big 10 | 2014 |
| Kraft | Kennedy | Ohio State | Big 10 | 2014 |
| Walts | Nikki | Ohio State | Big 10 | 2014 |
| Milberger | Katie | Baylor | Big 12 | 2014 |
| Block | Audrey | CSU Northridge | Big West | 2014 |
| Palacios | Kiana | UC Irvine | Big West | 2014 |
| Elamcos | Shantae | CSU San Marcos | CCAA | 2014 |
| Boland | Allison | San Francisco State | CCAA | 2014 |
| Flores | Haley | San Francisco State | CCAA | 2014 |
| Morehouse | Kirsten | Swarthmore College | Centennial | 2014 |
| Blanco | Kaela | Concordia College (NY) | Central Athletic Collegiate | 2014 |
| Wong | Jessica | New York University | Eastern College Athletic | 2014 |
| Frederiksen | Rowan | Colorado College | Mountain West | 2014 |
| Arao | Mikaila | Colorado State | Mountain West | 2014 |
| Wiehe | Bryanna | Nevada, Reno | Mountain West | 2014 |
| Cabrales | Â Alexa | New Mexico | Mountain West | 2014 |
| Murphy | Casey | New Mexico | Mountain West | 2014 |
| Schulz | Miranda | Oregon | Pac 12 | 2014 |
| Stiver | Miranda | Oregon State | Pac 12 | 2014 |
| Gibson | Indigo | UC Berkeley | Pac 12 | 2014 |
| Cerda | Mackenzie | UCLA | Pac 12 | 2014 |
| Murphy | Julia | USC | Pac 12 | 2014 |
| DeLeon | Natalie | US Naval Academy | Patriot | 2014 |
| Rand | Francesca | Western State Colorado | RMAC | 2014 |
| Eisendrath | Katelyn | Washington University, St. Louis | University Athletic | 2014 |
| Smith | Allyson | Texas 'Äö Rio Grande Valley | WAC | 2014 |
| Forstot | Savanna | Gonzaga | WCC | 2014 |
| Bermael | Lana | Tulsa | AAC | 2013 |
| Krenik | Sierra | Tulsa | AAC | 2013 |
| Brown | Jaci | Pittsburgh | ACC | 2013 |
| Fernandez | Arielle | Pittsburgh | ACC | 2013 |
| Teegarden | Sarah | Wake Forest | ACC | 2013 |
| Salazar | Tiana | Florida Gulf Coast | Atlantic Sun | 2013 |
| Leong | Gabby | Idaho | Big Sky | 2013 |
| Gharios | Chloe | Cal State Fullerton | Big West | 2013 |
| Hackett | Kailey | UC Santa Barbara | Big West | 2013 |
| O'Connor | Maddie | UC Santa Barbara | Big West | 2013 |
| Wetzstein | Kelsey | San Francisco State | CCAA | 2013 |
| Rupey | Jennifer | San Diego State | Mountain West | 2013 |
| Suarez | Priscilla | Santa Ana College | Orange Empire | 2013 |
| Bauer | Madeline | Stanford | Pac 12 | 2013 |
| Trenary | Samantha | UC Berkeley | Pac 12 | 2013 |
| Levin | Savannah | USC | Pac 12 | 2013 |
| Mills | Kayla | USC | Pac 12 | 2013 |
| Solaru | Sammy | Auburn | SEC | 2013 |
| Watson | Chloe | Kentucky | SEC | 2013 |
| Harryman | Ashlyn | Texas A&M | SEC | 2013 |
| Storay | Kinnedy | Houston Baptist | Southland | 2013 |
| Delaney | Megan | Texas A&M, Corpus Christi | Southland | 2013 |
| Ancheta | Hannah | Denver | Summit | 2013 |
| Rey | Cassidy | Denver | Summit | 2013 |
| Impagliazzo | Elisabetta | Tulsa | AAC | 2012 |
| Pokipala | Nikki | Tulsa | AAC | 2012 |
| Doniak | Makenzy | Virginia | ACC | 2012 |
| Mack | Shainne | George Mason | Atlantic Ten | 2012 |
| Baker | Aubrey | Maryland | Big 10 | 2012 |
| Barrett | Devin | Oklahoma | Big 12 | 2012 |
| Stade | Kassidie | Oklahoma | Big 12 | 2012 |
| Ansara | Jordan | Cal Poly San Luis Obispo | Big West | 2012 |
| Robles | Clarissa | UC Irvine | Big West | 2012 |
| Almazan | Mayra | UC Santa Barbara | Big West | 2012 |
| Cortez | Angelisa | UC Santa Barbara | Big West | 2012 |
| Romanowski | Megan | UC Santa Barbara | Big West | 2012 |
| Walsh | McKenzie | UC Santa Barbara | Big West | 2012 |
| Eide | Morgan | Northwest | Cascade Collegiate | 2012 |
| Campbell | Sarah | CSU San Marcos | CCAA | 2012 |
| Flores | Heather | CSU San Marcos | CCAA | 2012 |
| Patterson | Derek | CSU San Marcos | CCAA | 2012 |
| Watkins | Alexa | CSU San Marcos | CCAA | 2012 |
| Taormina | Andrew | UC San Diego | CCAA | 2012 |
| Arthur | Alaina | Johns Hopkins | Centennial | 2012 |
| Gennrich | Cole | Johns Hopkins | Centennial | 2012 |
| Kaskey | Kevin | Johns Hopkins | Centennial | 2012 |
| Allen | Greg | Carnegie Mellon | Eastern College Athletic | 2012 |
| Gomez | Monica | Seattle Pacific | GNAC | 2012 |
| Gorab | Jack | Brown | Ivy | 2012 |
| Heckmuller | Michael | Merchant Marine Academy | Landmark | 2012 |
| Meckes | Weston | Long Island | Northeast | 2012 |
| Cox | Sarah | Stanford | Pac 12 | 2012 |
| Donahue | Katie | Stanford | Pac 12 | 2012 |
| Case | Mason | UC Berkeley | Pac 12 | 2012 |
| Browne | Emily | USC | Pac 12 | 2012 |
| Owen | Erin | USC | Pac 12 | 2012 |
| Dailey | Christine | Utah | Pac 12 | 2012 |
| Brahs | Allyson | Washington | Pac 12 | 2012 |
| Chin | Kyle | Lehigh | Patroit | 2012 |
| Vail | Brian | Lehigh | Patroit | 2012 |
| Ellsworth | Makayla | Colorado Mesa | RMAC | 2012 |
| Ellis | Taylor | Chapman | SCIAC | 2012 |
| Waymire | Cameron | Chapman | SCIAC | 2012 |
| Donaldson | Natalie | Auburn | SEC | 2012 |
| Cohen | Gayla | Arkansas, Little Rock | Sun Belt | 2012 |
| Kleinmeyer | Asia | Arkansas, Little Rock | Sun Belt | 2012 |
| Nsa | Nicole | Grand Canyon | WAC | 2012 |
| Minssian | Celina | Saint Marys College (CA) | WCC | 2012 |
| Gaal | Connor | San Francisco | WCC | 2012 |
| Larson | Rachael | Southern Methodist | AAC | 2011 |
| Luke | Lindsey | Wake Forest | ACC | 2011 |
| Trevisan | Gia | St. Bonaventure | Atlantic Ten | 2011 |
| Beckley | Madison | Ohio State | Big 10 | 2011 |
| Smitherton | Jessica | Cal State Fullerton | Big West | 2011 |
| Valenzula | Morgan | Long Beach State | Big West | 2011 |
| Ford | Brian | UC Davis | Big West | 2011 |
| Jern | Taylor | UC Davis | Big West | 2011 |
| Russo | Victoria | UC Irvine | Big West | 2011 |
| Ellis | Brooke | Trinity Christian, Chicago (IL) | Chicagoland Collegiate Athletic | 2011 |
| Gillen | Anastasia | Brown | Ivy | 2011 |
| Coxe | Francesca | Yale | Ivy | 2011 |
| Cox | Brittney | Kansas Wesleyan | KCAC | 2011 |
| Martinez | Breanna | New Mexico | Mountain West | 2011 |
| Olguin | Madison | New Mexico | Mountain West | 2011 |
| Helmer | Mariah | San Diego State | Mountain West | 2011 |
| Fernandez | Kailey | Southwest Minnesota State | Northern Sun Intercollegiate | 2011 |
| Glanz | Julia | Arizona | Pac 12 | 2011 |
| Davis | Heather | USC | Pac 12 | 2011 |
| Andujar | Tessa | Florida | SEC | 2011 |
| Dimry | Carlee | Tennessee | SEC | 2011 |
| McDermott | Renee | Texas A&M | SEC | 2011 |
| Boyer | Daniel | Houston Baptist | Southland | 2011 |
| Albeno | Kimmy | Lamar | Southland | 2011 |
| Frank | Nicole | Lamar | Southland | 2011 |
| Taber | Kelsey | Ekerd College (FL) | Sunshine State | 2011 |
| Waymire | Cameron | Saint Marys College (CA) | WCC | 2011 |
| Dominic | Natalie | Cincinnati | AAC | 2010 |
| O'Brien | Jordan | Tulsa | AAC | 2010 |
| Broderick | Taylor | St. Bonaventure | Atlantic Ten | 2010 |
| Chambers-Garcia | Shelby | Michigan | Big 10 | 2010 |
| Murphy | Shelby | Michigan | Big 10 | 2010 |
| Dickson | Zoe | Oklahoma | Big 12 | 2010 |
| Hellmann | Kaitlin | TCU | Big 12 | 2010 |
| Hogan | Gillian | TCU | Big 12 | 2010 |
| Dillon | Emily | West Virginia | Big 12 | 2010 |
| Press | Channing | Villanova | Big East | 2010 |
| Godfrey | Kiley | Idaho State | Big Sky | 2010 |
| Antonelli | Federico | Sacramento State | Big Sky | 2010 |
| Bustos | Ivan | Sacramento State | Big Sky | 2010 |
| Hernandez | Sabrina | Southern Utah | Big Sky | 2010 |
| Lilli | Vanessa | Southern Utah | Big Sky | 2010 |
| Benavidez | Kristyn | Long Beach State | Big West | 2010 |
| Hause | Kassidy | Long Beach State | Big West | 2010 |
| Warner | Wendy | CSU Northridge | Big West | 2010 |
| Shulty | Kevin | UC Davis | Big West | 2010 |
| Afshar | Natasha | UC Irvine | Big West | 2010 |
| Brumbaugh | Shelley | UC Riverside | Big West | 2010 |
| Rodriguez | Helena | UC Riverside | Big West | 2010 |
| Henry | Makenna | UC Santa Barbara | Big West | 2010 |
| Roteman | Kennedy | Southern Oregon | Cascade Collegiate | 2010 |
| Tasbihchi | Nushin | Cal Poly Pomona | CCAA | 2010 |
| Green | Mary | CSU San Marcos | CCAA | 2010 |
| Yeandle | Thomas | Sonoma State | CCAA | 2010 |
| Wathen | Lori | Westminster College (UT) | Frontier | 2010 |
| Wilson | Brianna | Westminster College (UT) | Frontier | 2010 |
| Hensley | Alison | Westmont College | GSAC | 2010 |
| Prioleau | Lainey | Columbia | Ivy | 2010 |
| Springer | Brooke | Kansas Wesleyan | KCAC | 2010 |
| Moses | Kaleigh | US Air Force Academy | Mountain West | 2010 |
| Campbell | Megan | Wheaton College | NEWMAC | 2010 |
| Smits | Lauren | Williams College | NEWMAC | 2010 |
| Daughetee | Genessee | UC Berkeley | Pac 12 | 2010 |
| Messinger | Kathleeen | UC Berkeley | Pac 12 | 2010 |
| Ledezma | Natalia | UCLA | Pac 12 | 2010 |
| Williams | Reed | UCLA | Pac 12 | 2010 |
| Bruno | Mia | USC | Pac 12 | 2010 |
| Mendoza | Allexa | Biola | Pac West | 2010 |
| Gregory | Krista | Point Loma | Pac West | 2010 |
| DeGarmo | Alex | Bucknell | Patriot | 2010 |
| Woolard | Katherine "KD" | US Naval Academy | Patriot | 2010 |
| Thompson | Savannah | Colorado State University, Pueblo | RMAC | 2010 |
| Jun | Camy | Chapman | SCIAC | 2010 |
| Schermerhorn | Chandler | Chapman | SCIAC | 2010 |
| Elliott | Ali | Auburn | SEC | 2010 |
| Mabie | Danielle | Barry | Sunshine State | 2010 |
| Keifus | Kailey | Gonzaga | WCC | 2010 |
| Simien | Danielle | Gonzaga | WCC | 2010 |
| Romanowski | Danielle | San Diego | WCC | 2010 |
| Oughton | Hali | East Carolina | AAC | 2009 |
| Brown | Lindsay | Notre Dame | ACC | 2009 |
| Stevens | Emma | Nebraska | Big 12 | 2009 |
| Fournier | Kali | Oklahoma | Big 12 | 2009 |
| Turang | Brianna | Oklahoma | Big 12 | 2009 |
| Wing | Katie | Georgetown | Big East | 2009 |
| Lazcano | Missy | Southern Utah | Big Sky | 2009 |
| Yukihiro | Jessica | Southern Utah | Big Sky | 2009 |
| Yukihiro | Jessica | CSU Northridge (t) | Big West | 2009 |
| Olvera | Lauren | Pacific | Big West | 2009 |
| Ledezma | Natalia | UC Irvine (t) | Big West | 2009 |
| Noriega | Kristina | UC Riverside | Big West | 2009 |
| Vasquez | Briana | UC Riverside | Big West | 2009 |
| Kennedy | Lauren | UC Santa Barbara | Big West | 2009 |
| Cuevas | Julio | Cal Poly Pomona | CCAA | 2009 |
| Horowitz | Stephanie | San Francisco State | CCAA | 2009 |
| Davila | Kelly | Sonoma State | CCAA | 2009 |
| Langdon | Brittany | Seattle Pacific | GNAC | 2009 |
| Thuve | Kristin | Vanguard (t) | GSAC | 2009 |
| Scanell | Britany | Westmont College (t) | GSAC | 2009 |
| Issa | Ameenah | Kansas Wesleyan | KCAC | 2009 |
| Mahoub | Jennifer | Kansas Wesleyan | KCAC | 2009 |
| Bernay | Maggie | William Smith College | Liberty League | 2009 |
| Jones | Sara | Manhattan College | Metro Atlantic Athletic | 2009 |
| Strom | Samantha | Nevada, Reno | Mountain West | 2009 |
| McCluney | Kaitlyn | San Diego State (t) | Mountain West | 2009 |
| Cerda | Ally | Santiago Canyon College | Orange Empire | 2009 |
| Nogueira | Mariah | Stanford | Pac 12 | 2009 |
| Hein | Lauren | UC Berkeley | Pac 12 | 2009 |
| Bywaters | Zaykia | UCLA | Pac 12 | 2009 |
| Mack | Sierra | UCLA | Pac 12 | 2009 |
| Garcia | Courtney | USC | Pac 12 | 2009 |
| Noreiga | Kristina | USC (t) | Pac 12 | 2009 |
| Smith | Linzey | Redlands | SCIAC | 2009 |
| Vercillo | Darien | South Carolina | SEC | 2009 |
| Barrett | Jayden | Tennessee | SEC | 2009 |
| Bono | Kylie | Tennessee | SEC | 2009 |
| Schmidt | Mary | Texas A&M | SEC | 2009 |
| Cochran | Amy | Lee | Southern States Athletics | 2009 |
| Trujillo | Gabby | Houston Baptist | Southland | 2009 |
| Brooks | Shannon | North Dakota State | Summit | 2009 |
| Henrie | Kayla | Louisiana, Lafayette | Sun Belt | 2009 |
| Oltmanns | Kim | Saint Marys College (CA) | WCC | 2009 |
| Zinke | Jackie | San Diego (t) | WCC | 2009 |
| Derieg | Stephanie | Houston | AAC | 2008 |
| Zavalza | Jessica | Houston | AAC | 2008 |
| Dreyer | Alex | Southern Methodist | AAC | 2008 |
| Alatorre | Natalie | Tulsa | AAC | 2008 |
| McCluney | Kaitlyn | Tulsa | AAC | 2008 |
| Wood | Rachel | North California (t) | ACC | 2008 |
| Digeralamo | Danielle | Oklahoma | Big 12 | 2008 |
| Doniak | Kylie | Texas | Big 12 | 2008 |
| Orand | McKenzie | Cal Poly San Luis Obispo | Big West | 2008 |
| Rosas | Marysol | Long Beach State | Big West | 2008 |
| Christopher | Judy | UC Irvine | Big West | 2008 |
| Quevedo | Erica | UC Irvine | Big West | 2008 |
| DiBiase | Laura | UC Santa Barbara | Big West | 2008 |
| Oldham | Alyssa | UC Santa Barbara | Big West | 2008 |
| Segall | Gabi | Cal State LA | CCAA | 2008 |
| Robinson | Lauren | CSU San Marcos | CCAA | 2008 |
| Storness | Nikki | Rice | Conference USA | 2008 |
| Mills | Korrine | Carnegie Mellon | Eastern College Athletic | 2008 |
| Wurth | Janie | Seattle Pacific | GNAC | 2008 |
| Tovar | Vania | Vanguard | GSAC | 2008 |
| Bartlett | Megan | Cornell | Ivy | 2008 |
| O'Toole | Megan | Tufts | NESCAC | 2008 |
| Jimenez | Jamie | Pacific | Northwest | 2008 |
| Giovanni | Courtney | Arizona State | Pac 12 | 2008 |
| Jones | Taylor | Oregon | Pac 12 | 2008 |
| Levin | Camille | Stanford | Pac 12 | 2008 |
| Azimi | Marian | UC Berkeley | Pac 12 | 2008 |
| Burk | Charney | UCLA (t) | Pac 12 | 2008 |
| Madrid | Jessica | Academy of Art and Design | Pac West | 2008 |
| Aliviado | Jordan | Lyons College | TranSouth Athletic | 2008 |
| Burk | Charney | Portland | WCC | 2008 |
| Soro | Ashley | Saint Marys College (CA) | WCC | 2008 |
| Rinkoz | Mimi | San Diego | WCC | 2008 |
| Jackson | Lauren | Kansas | Big 12 | 2007 |
| Dickson | Tianna | Oklahoma | Big 12 | 2007 |
| Larkin | Ashtin | West Virginia | Big 12 | 2007 |
| Goettshce | Allison | Southern Utah | Big Sky | 2007 |
| Murillo | Christina | Cal State Fullerton | Big West | 2007 |
| Martin | Kailah | Cal Poly Pomona | CCAA | 2007 |
| Edwards | Kate | Rice | Conference USA | 2007 |
| Duffy | Caitlin | Bellermine | Great Lakes Valley | 2007 |
| Sumlyasu | Ayana | Yale | Ivy | 2007 |
| Thuve | Kristen | Evansville | Missouri Valley | 2007 |
| Mendoza | Cindy | Pace | Northeast Ten | 2007 |
| Zinke | Jackie | Arizona | Pac 12 | 2007 |
| Press | Christen | Stanford | Pac 12 | 2007 |
| Jeslova | Megan | UC Berkeley | Pac 12 | 2007 |
| Davila | Alyssa | USC | Pac 12 | 2007 |
| Joswick | Kellye | Washington | Pac 12 | 2007 |
| Gregston | Lauren | Biola | Pac West | 2007 |
| Mora | Janna Lynn | Biola | Pac West | 2007 |
| Emerson | Tanya | Tennessee | SEC | 2007 |
| Guertin | Haleigh | Pepperdine | WCC | 2007 |
| Thulin | Kaitlin | Houston (t) | AAC | 2006 |
| Engen | Whitney | North Carolina | ACC | 2006 |
| Fallon | Taylor | Indiana | Big 10 | 2006 |
| Klippert | Amy | Michigan | Big 10 | 2006 |
| Bowyer | Ashley | Ohio State | Big 10 | 2006 |
| Fronk | Kristen | Southern Utah | Big Sky | 2006 |
| Cope | Caty | UC Irvine | Big West | 2006 |
| Issa | Imaan | UC Riverside | Big West | 2006 |
| Lenham | Tammy | UC Santa Barbara | Big West | 2006 |
| Moreno | Natalie | CSU Dominguez Hills | CCAA | 2006 |
| Issa | Imaan | Kansas Wesleyan (t) | KCAC | 2006 |
| Lugo | Alicia | UNLV | Mountain West | 2006 |
| Gordon | Jessica | San Diego State | Mountain West | 2006 |
| White | Leslie | San Diego State | Mountain West | 2006 |
| Thulin | Kaitlin | Santiago Canyon College | Orange Empire | 2006 |
| Tiampo | Samantha | Arizona | Pac 12 | 2006 |
| Bak | Brianna | UC Berkeley | Pac 12 | 2006 |
| Kevorkian | Lisa | UC Berkeley | Pac 12 | 2006 |
| Mazura | Jessica | UC Berkeley | Pac 12 | 2006 |
| Scannell | Britany | UCLA | Pac 12 | 2006 |
| Hernandez | Lauren | Point Loma | Pac West | 2006 |
| Kevorkian | Lisa | Boston (t) | Patriot | 2006 |
| Elliott | Ashlee | Florida | SEC | 2006 |
| Grandy | Leslie | Loyola Marymount | WCC | 2006 |
| Larrabee | Jessica | San Diego | WCC | 2006 |
| Tinyo | Cassie | San Diego | WCC | 2006 |
| Orand | Alexa | Santa Clara | WCC | 2006 |
| Duarte | Nilani | George Mason | Atlantic Ten | 2005 |
| Sparks | Jenny | George Mason | Atlantic Ten | 2005 |
| Alvis | Jamie | Illinois | Big 10 | 2005 |
| Dunn | Jenny | Northwestern | Big 10 | 2005 |
| Johnson | Jenny | Southern Utah | Big Sky | 2005 |
| Sparks | Jenny | Cal Poly San Luis Obispo (t) | Big West | 2005 |
| Schrafer | Julie | Long Beach State | Big West | 2005 |
| Henry | Erin | UC Irvine | Big West | 2005 |
| Dunlop | Lindsay | Menlo College | CalPac | 2005 |
| Androsko | Amy | Humboldt State | CCAA | 2005 |
| McChesseny | Alissa | Humboldt State | CCAA | 2005 |
| Ryan | Nikki | Western Kentucky | Conference USA | 2005 |
| Prather | Mackenzie | Bellermine | Great Lakes Valley | 2005 |
| Press | Tyler | Harvard | Ivy | 2005 |
| Jain | Aarti | Princeton | Ivy | 2005 |
| Miller | Samantha | Nevada, Reno | Mountain West | 2005 |
| Thrush | Keri | San Diego State | Mountain West | 2005 |
| Yount | Christi | San Diego State | Mountain West | 2005 |
| Guadagnolo | Jenny | San Jose State | Mountain West | 2005 |
| Scott | Kelsea | San Jose State | Mountain West | 2005 |
| Alvarez | Tiffany | Oregon State | Pac 12 | 2005 |
| Nick | Ashley | USC | Pac 12 | 2005 |
| Massey | Amy | USC (t) | Pac 12 | 2005 |
| Ifland | Saxony | Asuza Pacific | Pac West | 2005 |
| Sheldon | Janae | Southeastern Louisiana | Southland | 2005 |
| Massey | Amy | Saint Marys College (CA) | WCC | 2005 |
| Carter | Kristen | San Diego | WCC | 2005 |
| Mielke | Alexis | San Francisco | WCC | 2005 |
| Colker | Kierra | George Washington | Atlantic Ten | 2004 |
| Smith | Shannon | Baylor | Big 12 | 2004 |
| Dickenson | Traci | Oklahoma | Big 12 | 2004 |
| Byler | Candice | Oklahoma State | Big 12 | 2004 |
| Grimaldi | Niccole | Oklahoma State | Big 12 | 2004 |
| Truelove | Breanna | Oklahoma State | Big 12 | 2004 |
| Sabin | Jenna | Cal State Fullerton | Big West | 2004 |
| Sabin | Shayla | Cal State Fullerton | Big West | 2004 |
| Truelove | Breanna | Long Beach State | Big West | 2004 |
| Little | Kelly | UC Irvine | Big West | 2004 |
| Adams | Danesha | UCLA | Pac 12 | 2004 |
| Baduria | Stefanie | Loyola Marymount | WCC | 2004 |
| Bolado | Amanda | Loyola Marymount | WCC | 2004 |
| Johns | Jessica | Loyola Marymount | WCC | 2004 |
| Wolters | Allison | San Diego | WCC | 2004 |
| Kalmbach | Emily | Michigan | Big 10 | 2003 |
| Lem | Allyson | Cal State Fullerton | Big West | 2003 |
| Welch | Lauryn | Cal State Fullerton | Big West | 2003 |
| McLeod | Sarah | Long Beach State | Big West | 2003 |
| Coppoletta | Katie | Humboldt State | CCAA | 2003 |
| James | Nicole | Drake | Missouri Valley | 2003 |
| James-Tadman | Nicole | Boise State (t) | Mountain West | 2003 |
| Emerson | Brittany | New Mexico | Mountain West | 2003 |
| Kelly | Kaela | New Mexico (t) | Mountain West | 2003 |
| Childers | Kristen | Long Beach CC | NATYCAA | 2003 |
| Mazura | Alivia | UC Berkeley | Pac 12 | 2003 |
| Janes | Paige | USC | Pac 12 | 2003 |
| Shepherdson | Lauren | USC | Pac 12 | 2003 |
| Duarte | Tasia | Utah | Pac 12 | 2003 |
| Gialamas | Patricia | Washington | Pac 12 | 2003 |
| Kelly | Kaela | Mississippi | SEC | 2003 |
| Brewer | Jennifer | Pepperdine | WCC | 2003 |
| Gray | Joy | UC Irvine (t) | Big West | 2002 |
| Bright | Kristin | UC Santa Barbara | Big West | 2002 |
| Arreola | Liz | CSU Dominguez Hills | CCAA | 2002 |
| Gray | Joy | Long Beach CC | NATYCAA | 2002 |